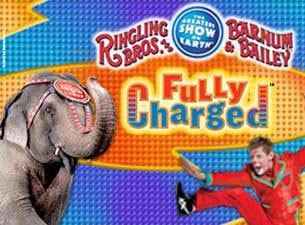 601 Biscayne Boulevard
Miami, FL 33130
Don't miss Fully Charged!, the all-new surge of circus entertainment from Ringling Bros. and Barnum & Bailey where megawatts of thrills explode off of the arena floor with breathtaking dare-devilry, superhuman stunts and never-before-seen performances that energize Children Of All Ages!
Come 90 Minutes Early for FREE circus fun!
Animal Open House
Come check out the BIGGEST STARS, the Ringling Bros. and Barnum & Bailey® Asian elephants, at the Ringling Bros.® Animal Open HouseSM. It's FREE to all ticket holders! Arrive 90 minutes early for this once-in-a-lifetime opportunity. You can meet these majestic beauties and learn about our commitment to animal conservation.
All Access Pre-Show
An hour before the show, get an up-close experience at the All Access Pre-Show – FREE to all ticket holders. Families can participate in the interactive experiences, such as learning juggling and balancing skills, getting performer autographs, seeing a one of Ringling Bros.® majestic Asian elephants paint a one-of-a kind masterpiece and meeting the Ringling Bros. Clowns, whose side-splitting spoofs, absurd antics and comical parody are guaranteed to keep audience roaring with laughter!
Showtimes:




Thu, Jan 12, 2012 @ 7:00PM




Fri, Jan 13, 2012 @ 7:00PM




Sat, Jan 14, 2012 @ 11:00AM




Sat, Jan 14, 2012 @ 3:00PM




Sat, Jan 14, 2012 @ 7:00PM




Sun, Jan 15, 2012 @ 11:00AM




Sun, Jan 15, 2012 @ 3:00PM




Sun, Jan 15, 2012 @ 7:00PM




Mon, Jan 16, 2012 @ 6:00PM